​​Many Middle Eastern, Mediterranean, and Latin American homes are built with walls around the residence that creates a courtyard which​​​​ provides protection from the wind, rain, and sun. ​​These walls form entertaining, gardening, private, and safe spaces. Most people prefer ​this layout, i
f they...​
​

• have short, moderate winters,
• long summers,
• mild spring and fall seasons, and
• just want to heat, or cool, a small structure.
Social Room - an optional Awning or Metal Roof over your informal living area.
Entertaining Room - an optional Awning or Metal Roof over your informal dining area.​​
© Select Investments LLC 2010-2018
​An E3D Home visually connects the front entry with an awning, or metal roof expanse. ​This creative arrangement encourages homeowners to use these four-
​season spaces more often …which in turn helps create a greater sense of privacy and freedom. ​​​​​​​​ This awning-covered ​S​ocial ​Room is a natural gathering ​place, and
​encourages an easy flow between indoor and outdoor space facilitating communications and shared ​activities. This entry links key indoor spaces with the outdoors.
Just beyond the home's entry, front door and Social Room is a space designed for ​many other types of entertaining. This four seasons environment is used hundreds of times more each year than formal dining rooms. This awning-covered, informal dining and seating area offers a casual bistro atmosphere complete with super energy-efficient ceiling fans.​​ These designs allows the inside heating and cooled living areas to be smaller, and less costly to own.
Walk from the Open Patio Room, or out an E3D Home's rear door and step into a private area complete with a R​ainwater Harvesting (RWH) system, a storage shed, and space for your own raised-bed organic herb and vegetable garden.
This open-air area is perfect for propane gas grilling when cooking for fun, or when needed. Enjoy a fire pit, a water feature, or outside bar …or simply sunbathe in the privacy of your home's walled outdoor retreat.
If your lifestyle includes children - maybe a play area and sand box instead of a garden ...and use your walled courtyard as a safe place for youngsters and pets to play. Dogs and cats have outside and inside access with the electronically-controlled pet door that's activated by your pet's collar.
The "Diva 1200 - L" One Bedroom Home
The "Diva 1200 - L" One Bedroom Floor Plan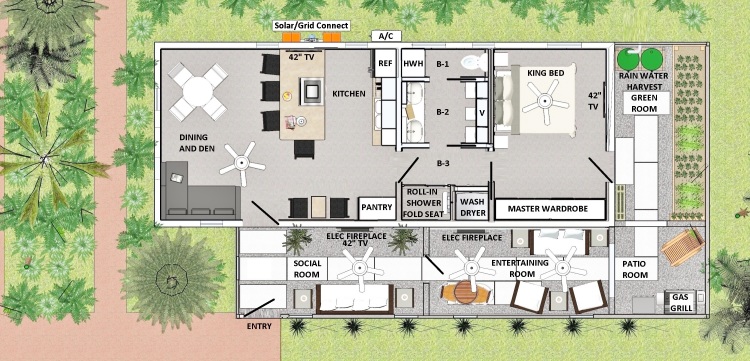 This one bedroom home

with a three-compartment European-styled bathroom is designed, engineered, then built to withstand 120+ MPH winds and last for 100+ years. This home is recommended for singles, widows and widowers, first-time home buyers, and down-sizing seniors wanting a lock-and-leave-styled home. These Social, Entertaining, Open Patio, and Green Rooms demonstrate how living spaces can serve multiple purposes and many lifestyles ...at greatly reduced construction, maintenance, and living costs!



​​As an example

... formal living rooms are rarely used today as people prefer to spend their time in the kitchen and informal areas. ​​Seldom-used formal ​​​rooms can be replaced by spaces that serve many purposes …but with less square footage and substantially lower heating and cooling costs.